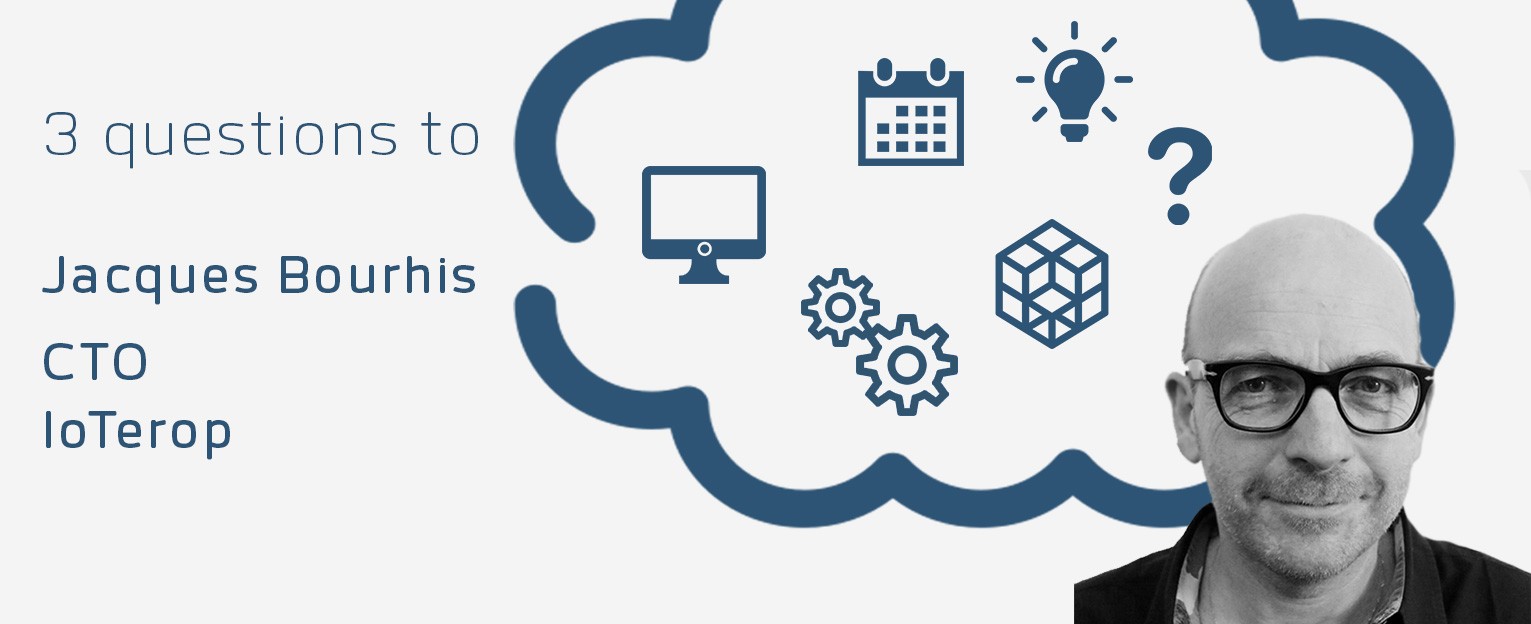 Adeunis is constantly innovating and adding value to its products, and announces its collaboration with IoTerop company.
Adeunis and IoTerop are currently working together to integrate LwM2M into a future IoT product. Discover in the article below why Adeunis made this choice through the advantages of LwM2M presented by Jacques Bourhis, Technical Director of IoTerop.
Lightweight M2M is a network protocol for Internet of Things device management.
Also spelled LwM2M, it was created by the OMA SpecWorks to manage the lifecycle of a connected object from bootstrap to de-provisioning.
Albeit a specification on its own, LwM2M leverages a set of other specifications to build consistent solutions, namely:
The IPSO Alliance's Smart Objects for standardized data-model management.

The Internet Engineering Task Force's CoAP connectivity standard for network transport and security.
Ioterop's, Chief Product Officer, David Navarro, recently appointed to the OMA SpecWorks board, has been an early, significant, and consistent contributor to the LwM2M. "In particular, we have been specifying and implementing the required features for low-power wireless networks such as NB-IoT or LoRaWAN."
In the coming years, tens of billions of IoT devices will be activated. It is essential to understand, just a single, improperly managed device can adversely impact operations, increase costs, create security vulnerabilities, and even halt industrial operations.
These devices share common traits: remoteness, limited battery capacity, and finally, limited network access. Due to device constraints, operational challenges, and deployment sizes, managing IoT objects requires robust device management services.
An analogous example to IoT device management is the cellphone industry. Cellular networks allow millions of smartphones to access networks. When you start your smartphone for the first time, the SIM card you inserted, receives the latest firmware, registers your phone, and gives you access to subscribed services. LwM2M provides a similar framework for IoT.
To conclude why LwM2M is important, it is in the 2010s, the OMA SpecWorks decided to create a reduced-footprint protocol, LwM2M, mandatory for low-power devices on constrained networks.
Our customers choose LwM2M for:
Remote management – provide remote diagnostics, repairs, firmware updates over-the-air (FOTA), and efficiently manage security settings.

Reliability – Ensure operations are completed and acknowledge despite network limitations.

Scalability – Scalability in the cloud and on networks starts with efficiently managed data and devices.

Security – Provide encryption and authentication at the device, application, and data-transport level. Allow for the use of additional security infrastructure as needed, like public-key infrastructure (PKI). Security must be multi-layered, distributed, and end-to-end.

Compactness – Each operation must be reduced to the essential. Each non-necessary process impacts battery life, network utilization, and costs.
What are IoTerop benefits?
Our customers choose IoTerop because of what we add to LwM2M:
Efficiency – We enable mass deployments by reducing per-device acquisition and operational costs. Our executable footprint uses five times less flash memory and ten times less RAM than industry equivalents. IOWA's ability to provide micro-firmware updates use less flash memory, saving battery life while reducing data transmission needs.

Interoperability – Ericsson, AT&T, and Verizon have certified IOWA, meaning you can go-to-market quickly and confidently, in anywhere worldwide.

Time-to-market – IOWA software development kit is well-documented and tested, containing many codes examples. Our hardware abstraction layer allows applications to be ported to any device or OS, even bare metal, in just a few hours. The application programming interface abstracts the complexity, focusing resources on what matters most: deployment.

Expertise – Our team of LwM2M experts provides expert support to solve the most advanced questions on NB-IoT or LoRaWAN network.

Completeness – IoTerop also provides ALASKA, a rich, powerful device management-as-a-service, ANCHORAGE, a solution for your device management server in your cloud, and CONNECTICUT, our device management server for test and certification.
To conclude, why choose IoTerop ? Because with our complete solution, entirely adapted for low-power connected devices, and enabling to easily connect the product to the cloud, our customer effectively standardize their solution and can serve its IoT strategy as ambitious as it is.
We see IoT as a continuation of the Industrial Revolution. IoT will improve how we deliver goods and services, lowering prices and improving quality. The two significant challenges limiting mass IoT adoption are lack of security and device operational costs.
Lack of security undermines public and corporate confidence slowing adoption, perhaps even leading to government regulations. Limiting the per-device costs will allow organizations greater flexibility to deploy solutions. IoTerop's IOWA helps address both these challenges.
In the end, IoT, like other business decisions, come back to objectives, and pragmatism.
About the author:
IoTerop is an award-winning leader of IoT device management solutions, Lightweight M2M supporter, and Open Mobile Alliance's SpecWorks contributor and board member. IOWA, our framework of rich device services reduces the technical challenges and costs associate with mass IoT deployments over constrained networks. IOWA device management is used especially by industry visionaries like Itron or Traxens.