Choose the best location for your devices with the FTD
You want to choose the best location for your connected objects in order to recover the data from your fleet? Make sure you have the right radio signal so as not to consume too much battery?
Adeunis and Orange launch an offer dedicated to the Field Test Device , the LoRaWAN network tester.
Get an Field Test Device  + Orange LoRa® network subscription for 36 months.
From the piloting phase, you will be able to reassure your customers about the quality of the radio signal reception. And during the deployment phase, you will optimally install your fleet in order to respect your budget and your commitments to your customers.
The network tester can be used for all your sensors, and for all types of uses, from Smart Building, Smart City to Smart Industry.
With this solution, you can choose the best location for your LoRaWAN connected objects. The integrated geolocation function ensures the traceability of the measurement points. User friendly, simply press a button and immediately view on the LCD screen the network indicators (channel, spreading factor, power, sensitivity, signal / noise ratio, error rate), as well as the GPS position, the level battery and internal temperature.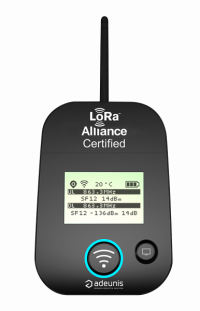 The FTD is the reference tool for your IoT deployments.
Optimize the deployment of your connected objects.
Save time with an easy-to-use tool.
View the network coverage information live on the LCD screen.
Find the adeunis / Orange offer on: market.datavenue.orange-business.com