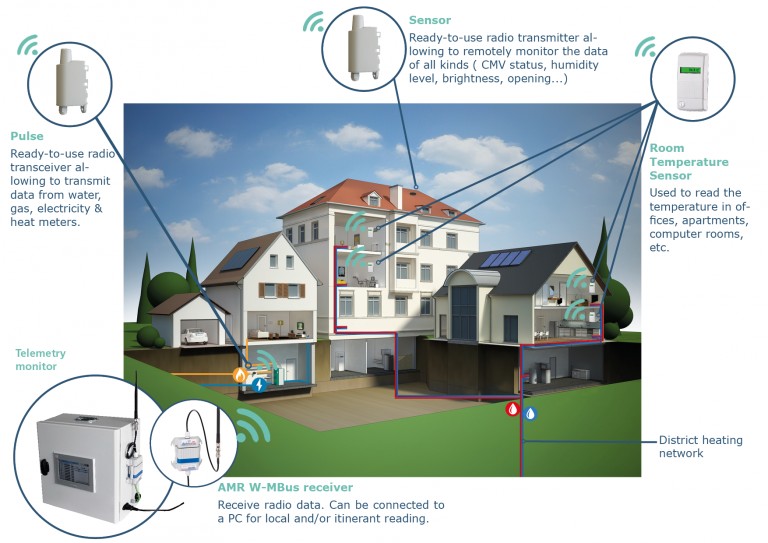 Energy efficiency monitoring
IDENTITY RECORD
Fuji Electric is a Japanese electrical engineering and measurement equipment company.
25,740 employees – $ 7,384 million in sales
Market
104 institutions in 21 countries – represented in more than 52 countries
Business sector

Energy and Infrastructure
Industrial installations
Power electronics
Electronic components
Vending machines (food and beverages)
Type of building
Urban buildings
Type of building
Urban buildings

Objectives
Monitor the energies needed to operate buildings
Thanks to its telemetry station and an Adeunis product infrastructure, Fuji Electric monitors the energy required for building operations: heating, gas, electricity, etc. The system developed allows the feedback of desired information.
Fuji Electric CHALLENGE
The undergrounds of cities consist of gigantic labyrinths of pipes. This entire network, managed by a boiler room, supplies urban buildings with hot water. Water, a rare and precious commodity, requires our full attention. In order to optimize the management of this resource, Fuji Electric wanted to set up a communicating system, putting together the necessary data for optimized management.
adeunis® SOLUTION
Fuji Electric and ADEUNIS have designed a communicating system, allowing the monitoring of consumption, the detection of leaks, or the improvement of regulation.
A fleet of ADEUNIS's devices (pulse transmitter, ambient temperature sensor, status reports…) have taken place in all the building. All these devices transmit data to a dedicated ADEUNIS hub/concentrator, which is connected to the Fuji Electric WGATE-POD-EMS telemetry monitor.
Data, like consumption, temperature, pressure or failure alarms, are communicated to the Fuji Electric gateway, which format and storage it.
This information can also be transmitted in real time, up to the central boilers, in order to be processed and to ensure the optimization of the network supervision. A connection, allows by the ARF868 ULR modem, working with frequencies usable, without licences.
With this system, you can also monitor and optimize others data: gas and water consumption, CMV system status…
Strengths:
A digital screen facilitates the use of the device:
Automatic discovery of the sensors
Free communications
Reception level indicator
Sensors can be named
The receiver can be deported instead of the antenna in order to avoid losses
Visiualisation of each battery level
Management of transmitters alarms
Data storage in CSV form
Features:
Up to 10 years of sensor's autonomy
The system can be adaptable to all needs (data's transmission via GSM or a dedicated website…)
Sending period: 10sec / 10mm or 12h
History statement every 12 hours
RESULTS
"Thanks to this system, we can propose to our clients a ready to use device, easily exploitable. The ADEUNIS devices ensure perfectly its collecting and transmission functions to our telemetry monitor first and to boiler's centers then. Data are retrieved, processed, and the network monitoring can be ensured
" Pierre DURIEZ, IT & Solutions Manager, at Fuji Electric
23/07/17