Two recognized players in the new technologies are pooling their know-how and their solutions to achieve IoT equipment integration in LoRaWAN technology at the heart of an existing Building Management System (BMS).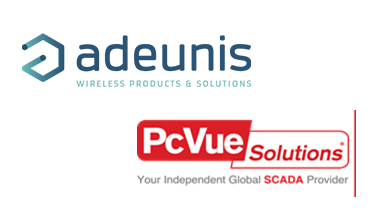 It is to answer to very operational problems that the Grenoble Alpes University Hospital sollicited Adeunis and ARC Informatique. In fact, the Grenoble Hospital's technical teams wanted to be able to instrument and control various equipment quickly, inexpensively and without cabling (Ethernet and power).
In addition, the University Hospital of Grenoble had expressed the wish to not add another software to the one already in place, in this case the PcVue supervision of ARC Informatique, in charge of managing the GTB and the GTE[1] site.
The first step, of this project constited in carrying out a LoRaWAN radio coverage study of the site thanks to the Adeunis teams, experts in this field. This study made it possible to identify the best position of the LoRa antenna, the zones (floors, buildings, parking …) correctly covered to allow the positioning of the adeunis® IoT sensors.
The LoRaWAN architecture makes it possible to set up a private network, espacially in indoor and deep indoor configurations, while taking advantage of the important radio coverage of this "Long Range" network. Indeed, only one antenna at the top of a building (15th floor) can cover almost all building on the site but also areas on an other site about 6kms away. The cost of the network infrastucture is therefore very small when compared to WiFi solutions.
After the preparation and installation of the LoRaWAN infrastructure by Adeunis teams, the adeunis® "PULSE" IoT sensors were installed to carry out water meter readings on numerous external points of Grenoble University Hospital. Temperature sensors "TEMP" can detect drifts on sensitive areas such as drug storage areas.
The integration of the LoRaWan network in the heart of the GTB PcVue allows to feedback datas from sensors within existing supervision. The "raw" data of the sensor (T °, On / Off) being as often insufficient for a good exploitation, all the power of PcVue is exploited to enrich and treat this data: creation of threshold, alarms, synoptics, curves and archiving.
Integration of IoT equipment maintenance data is also implemented with remaining battery life and sensor position in the building.
This project thus provides the operator with significant savings both in the commissioning phase and in the medium term in operation. Furthermore the installation of this LoRaWAN infrastructure will  allow to develop many new services through the use of new sensors and the enrichment of PcVue's functionalities.
In conclusion, these GTB hybrid solutions, allowing both the control of standard automation equipment and simplified instrumentation thanks to the use of Adeunis® IoT technologies, are clearly part of a modern and innovative approach.
This technological partnership Adeunis / ARC Informatique will solve many use cases in other sectors such as infrastructure, water, environment or the industry of the future, sectors where these two players have already acquired strong expertise.
About ARC Informatique
ARC Informatique, headquartered in Paris, is an independant global leader in HMI / SCADA software. Created in 1981 and certificated ISO 9 001 and 14 000, the company has an international presence through direct technical and sales offices in the United States, Europe and Asia. Tens of thousands of licensed copies of its PcVue SCADA are installed all over the world.

PcVue Solutions provides a flexible solution to oversee industrial processes, utilities and infrastructure. It meets industry standards for reliability, security, and performance while maintaining the user-friendliness of a desktop application. It extends the requirements of single-user standalone applications to complex client-server systems with redundancy.
About Adeunis
In a connected world, Adeunis designs, manufactures (fabless) and markets connected sensors and turnkey wireless solutions for operational performance of professionals. These devices make it possible to capture, transmit and secure digital data.
Adeunis' offering meets specific needs and applications in the building management, industrial optimization, sports and services markets and has attracted international companies and institutions such as Areva, EDF, Enedis, Legrand, Football Professionnel Ligue, OCEA Smart Building, SARP, Saur, SNCF, Suez ou Veolia Environment.
With an agnostic and targeted technological approach recognized for more than 20 years, with a large-scale industrialization capacity and an international distribution network, Adeunis has delivered more than 5 million products to date and intends to draw profit from the digital transformation of companies and the tremendous growth of the Internet of Things (IoT) professional.
Adeunis has 54 employees at two sites in France (near Grenoble) and in the United States. In 2016, the company, qualified as "Innovative Company" by Bpifrance, achieved a turnover of more than 9 M € and invests nearly 20% of its resources in Research and Development
[1] continuity of service of hospital equipment