+More services to update your sensors Over-The-Air
In order to accompany you further in the implementation of your IoT projects, discover KARE+.
The adeunis offer for maintaining in operational condition allows the Over-The-Air (by radio) updating of a fleet of sensors.
This solution is part of the adeunis range of services, offered to facilitate the implementation of your IoT solutions: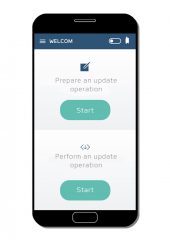 This application, coupled with a USB radio dongle, allows you to update (configuration/firmware) fleet of suitable sensors simultaneously.
Fast and easy to use, it identifies sensors nearby, within a radius of up to 30m indoors and 1500m in open fields.
Configurations or updates are carried out on sensor families. Up to 150 sensors of the same type can be modified at the same time.
This service works with sensors still in PARK mode or active sensors, which allows it to be used during 3 stages of the sensor's life:

on receipt of the sensors,

when installing the sensors on site,

when maintaining the sensors over time.
With this service you can:
configure several sensors at the same time and quickly, without a physical intervention,
load a configuration on installed sensors,
update embedded software (network or application),
access sensors located in restricted areas (manholes, roofs,…) without accreditation and without danger,
guarantee the scalability and security of embedded software.

optimize your operating costs

Make your fleet more reliable

Ensure the scalability of your fleet